TREE REMOVAL ESTIMATES
Certifed Arborists
Are you interested in having a tree removed from your yard or company? A trained professional will visit your location to ensure a correct estimate free of cost after you finish the form below.
Complete the form below and one of our experts will get back to you as soon as possible.
Professional Tree Removal
Our tree removal service is the go-to service for many homeowners. Finding the right tree service provider for your tree removal need can seem like a daunting chore. We try to make your life a little more comfortable by giving you the knowledge you need to make the correct choice accurately. We strive to be open with you and look to serve both homeowners and businesses. Remember, you can fill out a quote at any time, and one of our professionals will contact you immediately.
When determining if tree removal is right for your home or business, it is crucial to keep many vital factors in mind. No matter what, when dealing with large-sized trees, there is always a potential risk involved. It may land and harm your yard, land on electrical lines, or even jeopardize your safety. Please make a safe choice and receive an estimate first before trying anything yourself. We are glad to offer any tips or advice if you are thinking of doing it yourself. We hold ourselves to the highest standard of distinction while delivering top-notch value for any inquired tree-related service.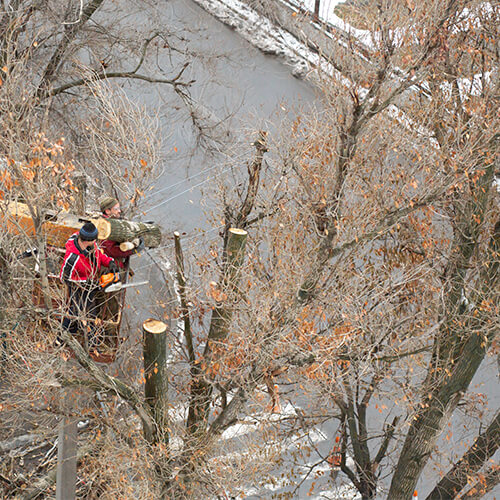 Expert Tree Removal Service
Receive a no-obligation estimate from local arborists for tree removal.
How much does Tree Removal Cost?
Inquiries such as "how much does a tree removal cost" can be hard to answer without an accredited arborist present with your tree. Below you will find information to help fully understand if your tree will be more costly or less costly to remove. 
How Large is the Tree?
More often than not, the larger the tree is the more it will cost. This includes, the personnel needed to remove a tree of that size, the clean-up needed, removing branches and debris, and additional limbs that may need to be removed while chopping the tree down. Similarily the height and the width of the tree will factor into the price. A small tree with a huge trunk may cost more than a taller tree with a slimmer trunk. 
What is the Current State of the Tree?
Is your tree stable and healthy, or is it dying from a disease or age? Finding the current condition of your tree will help you know if the cost will go up or down. Trees that are dying may result in more inexpensive prices as they are weaker, but depending on the damage could increase risk of injury for those working on it. If your tree is dead, make sure you have it inspected at and dealt with quickly. A tree that is dead on the outside could be rotted on the inside. This may comprise the entire structure of the tree.
Where is your Tree Positioned?
Is your tree positioned next to electrical wires, a structure, or in the middle of your yard? The price will inevitably vary depending on how easy it is for us to remove your tree safely. For trees that don't have any environmental factors affecting the drop location, the price will be lower. In addition, tree removal needs special attention to environmental conditions, for example: building, ground lines, fences…etc this can potenially cost a bit more.
Emergency Tree Removal?
Did your tree land on an electrical line, your house, or in your yard or driveway? Will it need to be taken out as soon as possible? No problem, we are here for you. It's essential to note that this will cost more as we will need to push other jobs back and potenially work later hours.
Tree Removal Cost Calculator:
Small Trees (Under 25 feet)
As noted before, small trees do have the capacity to be done by yourself. However, it will most likely cost you the same amount to have a professional remove it than doing it yourself. It also essential to assess the location for electrical wires if you choose to remove the stump. Remember, no matter how short the tree always take safety seriously.
Notes
Stump removal usually not included
Should be done within an hour
Does not require limb removal
Can be hauled away easily
Medium Trees (25 – 60 feet)
Medium trees will vary significantly in size and price. The diameter and thickness of the trees will help you gauge the cost of your medium-sized tree. Sometimes an agreement can be made to include stump removal and debris clean up. If your tree requires limb removal for larger medium-sized trees, it will add additional cost to your overall pricing.
Notes
Stump removal can be negotiated
Great for firewood
Often more debris left behind (sawdust)
Will need a Tree Service Provider
Large Tree (Over 60 – 85 feet)
In almost every circumstance there is no way for a homeowner to remove a large tree from their property. If you have a huge tree that needs removal please fill in the form and we can come out and give you an estimate. The risk factor is greatly increased if you attempt it yourself because the tree will need to be climbed. Do not attempt this job yourself.
Notes
Clear surrounding area
Will require limb removal (usually)
Lots of Firewood
Requires ground crew
Extra Large Trees (85+ feet)
These projects require an expert tree service team to remove every time. Often needing 3-4 staff to assist. As a result, attempting to remove trees this size alone can damage your property and jeopardize your safety. It's important to check electrical plans to make sure of roots or drop limbs of this size. Always ensure you hire a professional arborist with insurance. Receive an estimate today.
Notes
Stump removal usually discounted
 Can be great for firewood
Often more debris left behind (sawdust)
Will need to be done by an arborist
Fallen Trees (1/3 Removal Cost approx.)
The weather can become harmful to trees. In some cases, if trees are left unchecked or not correctly cabled, they could fall and damage your property. In situations where the tree has already fallen, the price will be significantly reduced. The risk is lower, and there is no need to climb the tree or decide where it needs to be lowered. Cutting up the tree and transporting the debris is often included.
Notes
Stump removal usually not included
Should be done within an hour
Does not require limb removal
Can be hauled away easily
Additional Costs (Factors Affecting Price)
A variety of conditions can change the base cost of tree removal. The position of your tree in connection to us is one of them. Are you within an hour, or are you over 2 hours apart? Depending on the project, this can add an additional charge. The lean of the tree can play toward the overall price. A substantial lean on a tree can cost more if it needs to fall the opposite way to avoid yard damage.
Notes
Location can affect the price
The lean of the tree is a factor
Permits can cost extra
Ease of access is important in pricing
Book a Free Estimate Today
Most importantly, Local Tree Estimates strives to make sure to deliver a professional and valuable service to each of our clients every day. Our mission is ensure you have a great experience from the moment you fill in an estimate till your tree is removed and taken away. We hope that you have a better idea about tree removal services and the risk and cost expectations. We partner with leading arborists within your community to bring you a high end tree removal service when you need it. Request a free estimate now and one of our professional arborists will be happy to give you a quote.
Certified Arborist Tree Service
Get a free no-obligation estimate from a local arborist for tree removal.
Tree removal costs can vary greatly depending upon the method you take to expedite the removal of the tree(s). If you opt to remove the tree by yourself or with colleagues, you will need the proper tools to do this. For trees that need the removal of limbs before cutting, we recommend a tree removal service provider. This is for the protection of both the individual climbing the tree as well as those underneath it when the branch falls.
Helmet
Work Gloves
Proper Footwear (steel-toed boots suggested)
Chainsaw or Handsaw (you can rent)
Protective Clothing
Protective Glasses or Goggles
Rent a Woodchipper (depending on what you would like to do with the tree)
Rent a Stump Grinder (depending on if you need stump removal to have a clean looking yard)
This can sound expensive and you would be correct in thinking so. Depending on how many trees you are removing and how often, in most cases, it will be more affordable, safer, and more well done to hire a tree removal team.
We offer more than just tree removal at Local Tree Estimates. Our customers have a variety of needs that we are available to serve. This includes stump removal, tree trimming, lot clearing, pruning, shaping, lot clearing, and emergency work.