LOT CLEARING ESTIMATES
Certified Arborists
Interested in lot clearing for your property or business? Our professional will visit your location to ensure an accurate estimate free of charge.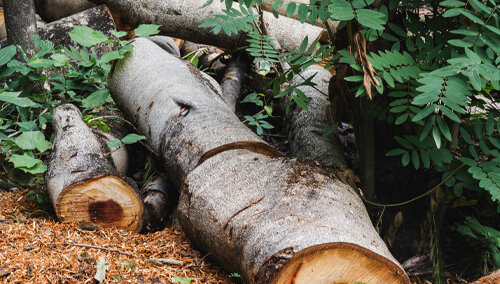 Complete the form below and one of our experts will get back to you as soon as possible.
Professional Lot Clearing
Lot clearing can serve many purposes depending on if you are a homeowner or business. Your location might have undergone lots of development in the past few years and continues to do so. You might be one of the individuals or businesses who need their new lot cleared. For new developments or properties, a lot clear may be required. If you are having a new construction built, renovating, or expanding your lawn, lot clearing is what you will need.
As a certified arborist we will be able to help you breakdown the costs and expectations of your lot clearing project. Depending on the size and layout of the job, specialized equipment or services may be needed. A lot goes into site preparation to clarify exactly what you will need to be done and the approximate timeline of the service. If it is a big project our team will gladly come out and view your property to give you an accurate lot clearing estimate. Below you will find some of the services that are often needed in lot clearing.
Lot Clearing Cost Calculator:
Lot clearing requires a variety of different tools and equipment to do a thorough job. Tree removal is often required, as well as stump removal. A quality wood chipper is often needed as well to help speed up the process. Find out below in more detail.
Tree Removal
Lot clearing often requires the removal of trees of varying sizes and shapes. This includes many of the bigger overhanging branches that proceed to take up space in your path. We remove all of these and create a clean straight path wherever you like.
Stump Removal
You may not realize it but your path might be covered in roots or stumps. Depending on the amount of brush throughout it could be difficult to see. This is no problem at all. We have the necessary tools to create a path that won't sprout up roots.
Wood Chipping
We don't take everything down and leave it, we can use our wood chipper to help remove the debris and create a nice wood chipper path. You could even use the woodchips elsewhere in your yard, or we can take them with us when we leave.
Allow an experienced tree service expert to visit your location and give you an affordable estimate. We will handle any job size and both commercial and residential properties. There is no risk in receiving an estimate. Our team would love to make your next project one to be remembered. Fill in an estimate today.
Book a Free Estimate Today
Most importantly, Local Tree Estimates strives to make sure to deliver a professional and valuable service to each of our clients every day. Our mission is ensure you have a great experience from the moment you fill in an estimate till your tree is removed and taken away. We hope that you have a better idea about tree removal services and the risk and cost expectations. We partner with leading arborists within your community to bring you a high end tree removal service when you need it. Request a free estimate now and one of our professional arborists will be happy to give you a quote.
Lot Clearing Service
Receive a free no-obligation estimate from local arborists for lot clearing.
We offer more than just tree removal at Local Tree Estimates. Our customers have a variety of needs that we are available to serve. This includes tree removal, stump removal, tree trimming, pruning, shaping, and emergency work.